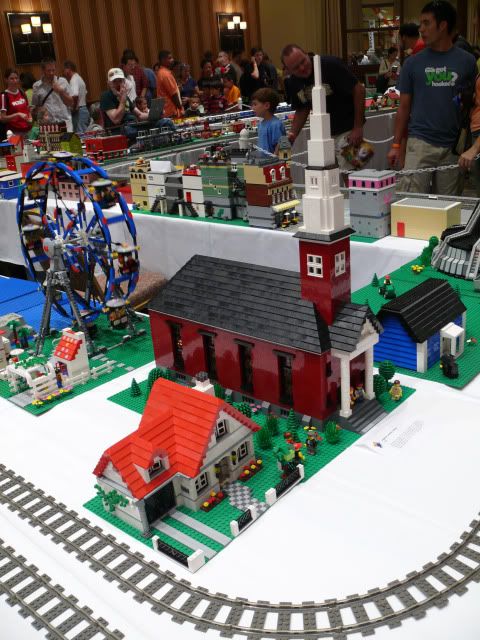 By Ann Clay on July 4, 2012
Are your kids obsessed with their Legos? My two boys have been big fans since assembling their first Duplo kits when they were little. By the time they were five years old, each boy had two huge Rubbermaid containers full of Lego pieces, plus several completed kits on their bedroom shelves. My younger son Andrew never kept his projects together after the first build. Immediately, he would 'mod' his vehicles and turn them into something else. He was completely intrigued by the idea of creating his own fantastic designs, often modifying them over and over again until their complexity would blow us away.
So imagine our delight when we discovered the annual BrickFair Lego Fun Festival in Chantilly! Sponsored by Adult Fans of Lego (AFOL), grown-ups who love Lego even today, Brick Fair is a place designers can display their creations, chat with onlookers and share ideas. Everyday people display their MOCs (My Own Creations) on tables throughout the building. Registrants must be 16 years of age or be accompanied by someone over 18, so kids can display as well. Families often make a weekend of it (if it's your first time exhibiting, you need to be at least 13 years old).
In addition to exhibitors, several vendors sell their Lego-related products during BrickFair. Last year Andrew scored some rare sci-fi weapons for his futuristic models. As a mom, I was intrigued by the magazine subscriptions offered. My second son is not fond of novels, but all of us are keen magazine readers. Subscribing to periodicals that delve more deeply into their interests promotes lots of reading without my having to do anything.
Games are held throughout the weekend and some prizes are distributed as well. Usually there is at least one train exhibit, and last year there was a raceway all made of Lego! It was free to run the remote controls; we just had to wait for our turn. There are special areas set up where kids can play for as long as they want to with zillions of bricks and create their own masterpieces. There's also a jar full of Lego bricks for you to venture a guess as to how many are inside. The winner gets the whole jar!
The 2012 BrickFair is held at the Dulles Expo Center in Chantilly from Thursday, August 2, through Sunday, August 5. Public days are Saturday and Sunday only from 11 a.m. to 4 p.m. Our experience has been only as visitors, but someday we hope to participate fully and exhibit. Remember your camera. Photography is encouraged!
For more information, go to http://www.brickfair.com/
To enter to win four free tickets, simply reply to this blog entry below and write 'I want those BrickFair tickets!' All entrants will be entered into a drawing, and one lucky family will get four free tickets (that's a $40 value).