In Appreciation
Special Volunteer Spotlight on Lois Curling
Web Redesign Director Extraordinaire….and So Much More
"Enjoy life. Enjoy Learning. Homeschool!"—Lois Curling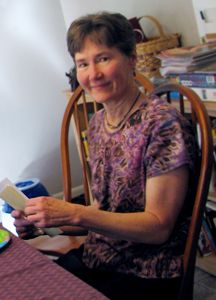 Lois Curling of Mechanicsville is one of VaHomeschoolers' most vital unsung heroes. Her contributions over many years have been crucial to the organization's existence. Member of the Board of Directors since 2008, she has also served as its Treasurer. Lois is finishing up her time serving on the Board of Directors, and we'd like to take this opportunity to honor her for her service.
It was her work as our Web Redesign Director that really put Lois over the top on the exceptional service scale. She put in literally countless hours communicating with our professional designer, Richard Hamel, the Board of Directors, and a slew of writers and other contributors. Lois would answer emails in the middle of the night! To put it plainly, our shiny new website would not be here today without Lois Curling, and she has done it in such a friendly, caring way.
Those who know Lois often remark on her calm, professional demeanor and her hours and hours of work behind the scenes. "I met Lois at my first-ever Board meeting and I was immediately taken with her quiet, thoughtful approach, her attention to detail and her dedication," remembers fellow board member Leslie Nathaniel. "She managed the complex task of getting our website redesign completed."
Karen Phaup, also leaving the board this fall, recalls, "Every time I saw her at any VaHomeschoolers' event, she would greet me by name and seemed to genuinely care about me and how my homeschooling was going. I'd have trouble putting into words the amount of work that Lois has done for this organization; without complaint, she just quietly works behind the scenes paying close attention to details and taking the organization to the next level.
You'll hear this 'working behind the scenes' phrase every time Lois's name comes up. During many, many past conferences, she has served as lodging chair, sign chair and conference treasurer.
As Board Treasurer, Lois "filed all government paperwork, handled all financial transactions, membership payments, billing/reimbursements, giveback programs and thank yous for donations. She also took charge of filing our taxes, saving us over $1000 annually that the organization would normally have to pay a professional tax accountant," says VaHomeschoolers President Parrish Mort.
Longtime VaHomeschoolers volunteer, speaker and writer Jeanne Faulconer agrees, "Another thing Lois has been great at is behind-the-scenes encouragement. I've been amazed that in the midst of preparing for a busy conference, Lois has made it a point to find special ways to thank others for their work on behalf of VaHomeschoolers. Lois has even seen to it that my favorite tea bags have made their way to me at critical moments during my volunteering with VaHomeschoolers. In the midst of doing big jobs, she somehow remembers the importance of small things. Her competence is rivaled by her thoughtfulness.''
"It seems whenever Lois takes over a task she takes it very seriously, and always spends time researching things; especially if it is a matter where money is concerned," maintains board member Theresa Munt.
Don't worry, Lois isn't going anywhere! While she is leaving the board after December, she is continuing to serve as conference lodging chair and as assistant to our new treasurer.
We need more people like Lois! Do you have a simple skill, something you really enjoy doing? You'd be surprised at how much you can help us out, even by volunteering only an hour here and there.
Please visit our website
for more information and to apply online.
http://vahomeschoolers.org/volunteer/
You can also fill out the Member survey by going to http://vahomeschoolers.org
Fill it out and mail it to:
The Organization of Virginia Homeschoolers
P.O. Box 5131
Charlottesville, VA 22905