Post submission by VaHomeschooler's Regional Coordinator in Boston, Virginia, Jennifer Wheelock.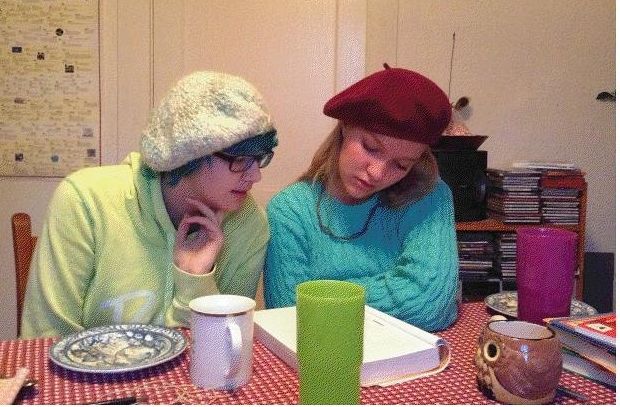 It's Monday, so we're in a rush to get our work done. We have to finish early so we can get to the high
school when it lets out to pick up our companion for French class. Eventually we find her; she's the
one with the cartoon blue hair. Although she is a former homeschooler, she now seems adjusted to her
high school environment. The busy high school is a little intimidating to my homeschooled daughter.
She's had plenty of social interactions, but it is hard for her to imagine rubbing shoulders with that
many people every single day.
When we get home we get out the French books and make mugs of tea. The girls decide to whip up
some no-bake chocolate cookies for a treat. It's an admixture of French class and a Bravewriter style
poetry tea. All those years of stopping for a cup of tea and some together time seem to have left a
strong imprint. Soon the girls will be memorizing French poetry, but first we have some grammar and
vocabulary to master. Stories about Marc and Julie and the dog Chouchou aren't very exciting, but we
hope to get to more complicated stuff soon. If we get too impatient we might try a little of Le Petit
Prince for a change of pace. I am looking forward to French poetry!
This is our new adventure for this term. After years of studying Latin and Greek, my daughter really
wanted to study some live languages. We've had some trouble incorporating the lessons into our busy
schedule, so we decided to create a little weekly class to make sure it happened. It really matters to us
that we anchor things into our schedule. So far so good! We look forward to our weekly French
lessons and are making good progress. Soon we'll be able to do the whole class in French, we hope.
And they're planning a trip to France for homework. . . . you know, just in case we figure out a way to go. . . . .