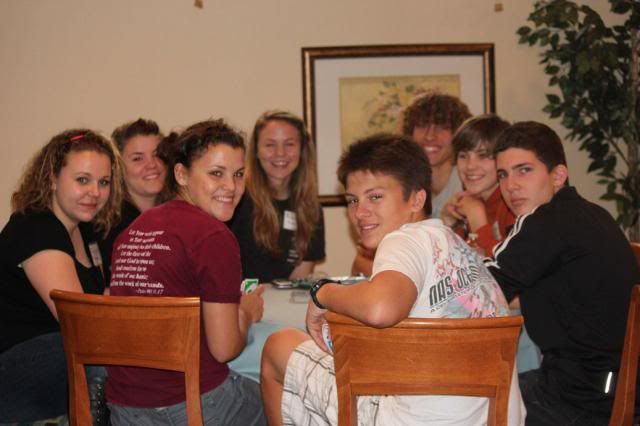 Let us introduce you to the fabulous Phaup teens. These cousins:Tyler, Ryan, Adrienne, Susie, Elizabeth and Abigail Phaup, and family friend Cheyenne Greene (whom we count because the Phaups do!), are the offspring of former board member Karen Phaup and her husband Bruce, and Bobbi Jo and Jay Phaup(one of our founders). Our conferences would never come off so smoothly without this great group of young people, and we'd like to take this opportunity to thank them.
This adolescent powerhouse has toiled for years now lugging most of the books for the Used Resource Sale, book fair and the heavy boxes of fillers for the tote bags (that includes picking them up from UPS and FedEx, putting them in and out of storage, and loading and unloading the family vehicles). They've also helped out at registration, the VaHomeschoolers information table and with lunch distribution. In 2012, the cousins also did all the decorating for both the teen party and the post-conference party.
VaHomeschoolers president Parrish Mort is used to seeing the group at every conference. "The Phaup clan is always at the Cultural Arts Center from beginning to end. They unload vehicles, stuff all the tote bags, act as greeters, and work at the Used Resource Sale. One of my favorite memories is seeing them all sitting around a big table with other teens at the teen party laughing and playing Uno or some other card game."
Phaup kids make hard work feel like fun. As the manager of the conference book fair in 2012, board member Kendra Niehaus observed their charms first hand. "Tyler and Ryan (along with Kaila Nathaniel) helped with book fair set-up last year.  I began the day totally wound up, but those boys managed to put me at ease and make me laugh, while still being efficient and adding a creative flair to the design that I wasn't expecting.  The following day, Abby was lovely and well-spoken as she rang up sales. She handled customers with a maturity I've rarely seen in a young teen. The only thing that disappointed me about the conference this year was that I didn't get the chance to work with the Phaup teens again!"
"The Phaup boys also helped to look up key items for the URS last year to help us better price special items, then made unique price tags for them," remembers Vice President Leslie Nathaniel. "Last year, the Phaup girls kept an expert eye on the line at the ice cream social– they gauged scoop sizes to match the number of people we had without anyone telling them. They were speedy, friendly, and super-efficient so that everyone had a wonderful time. Yes, the Phaup crew is awesome. We are all so lucky to have them!"
"We would never have been able to pull off that party [the 2012 post-conference party]without the hard work of the Phaup crew," says board member Ann Clay. "Bless those Phaup kids with their adolescent energy! They got the whole place decorated, the food arranged nicely, and the atmosphere set. Two of the cousins took coffee, cream and sugar around to each party guest, looking and acting like real wait staff. Later in the evening, Ryan and Tyler did a fantastic job giving away the door prizes. They were a riot!
"The thing that really struck me was that I offered them free pizza and a dip in the hotel pool as a reward for helping us out, but their mom Karen said they didn't need motivation. And she was right. They were happy, enthusiastic and helpful the entire evening, all the way through cleanup. They helped me load up my car too, before I staggered up to bed."
One of our most treasured volunteers, Barb Benfante, regularly runs the VaHomeschoolers table at each conference. "Adrienne is an invaluable helper at the VaHomeschoolers table. She has a great attitude and she works hard at any job she is given. She is always smiling and looks happy to be there even when there is a lull and not much to do!"
Jeanne Faulconer says, "Tyler has always been that take charge guy. I have often thought he reminds me of my oldest because he has that "LET'S do it" leadership style that I recognize is kind of that ideal that they hone in Scouts. He jumps in and invites others, which makes the work so much easier, and people have no idea that Tyler is 'leading' them to do something. How often have I wished in my life for bosses like that! I have noticed this in Tyler many, many conferences back."
Even behind the scenes, these kids are ready to help. Ryan took it on himself to learn Microsoft Excel so that he could assist the volunteer coordinator with her spreadsheet problems. He made it much more functional and beautiful. She tried his patience mightily, but he held it together.
Newest board member Pamela Schmidt says, "Ryan is one of my favorite homeschool conference memories. Last year he was so open and well-spoken, and I was grateful to meet another teen boy like (my son) Parker. He helped me work on my moonwalk in the parking lot (much to the utter embarrassment of my children). He's awesome!"
We wholeheartedly agree. The Phaup cousins spread cheer and fun everywhere they go. They help the first time we ask, and they never need reminding. We at VaHomeschoolers are very proud to have this family and their great example of what homeschooled young people can be. Thanks, kids!
We need more people like the Phaup cousins! Do you have a simple skill, something you really enjoy doing? You'd be surprised at how much you can help us out, even by volunteering only an hour here and there. We especially value our teen volunteers, and we can help you with your college and career goals by giving you a great letter of recommendation. Read about our current volunteers needs at http://vahomeschoolers.org/volunteer/ or email Volunteers@VaHomeschoolers.org for more information.